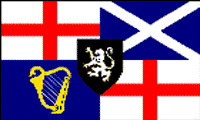 Banner and Command Flag

The Government during 1653 to 1659 was called The Protectorate, and was ruled by the Lord Protector.
The Flag of the Protectorate has St Georges Cross, representing England, St Andrews Cross, Saltire for Scotland, and a Harp for Ireland. The Arms of Cromwell, a Lion on a Black Shield is in the centre.
Oliver Cromwell used the Flag of the Protectorate as his Personal Standard, until his death in 1658.
The Flag was then used by Richard Cromwell, The Lord Protector until 1659.

The Lord Protectors Flag, is manufactured to the highest standards and quality.
Lord Protectors Flags are 100% Polyester auto screen printed, with 2 brass eyelets for flying, and doubled stitched edges for extra strength.
Buy The Lord Protectors Flag 1653 to 1659 at, The World of Flags, online Flag Shop.