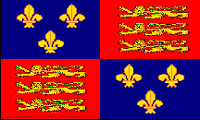 English Royal Standard
Royalty Flag of England
3ft by 5ft (900mm by 1500mm approx).

This Flag was used during the Reigns of King Henry IV (1399-1413), Henry V (1413-1422), Henry VI (1422-1471), Edward IV (1461-1483), Edward V (1483), Richard III (1483-1485), Henry VII (1485-1509), Henry VIII (1509-1547), Edward VI (1547-1553), Queen Mary I (1553-1554),and Queen Elizabeth I (1558-1603).

The 1405 to 1603 Royal Banner Flag, is manufactured to the highest standards and quality.
Royal Standards are 100% Polyester auto screen printed, with 2 brass eyelets for flying, and doubled stitched edges for extra strength.
Buy Royal Banners at, The World of Flags, online Flag Shop.